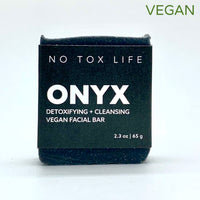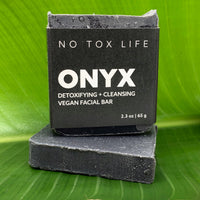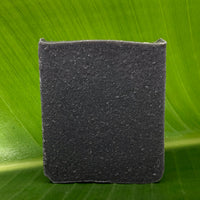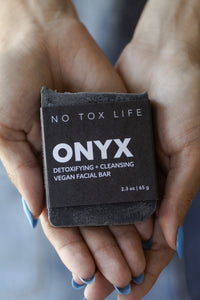 No Tox Life
ONYX Detoxifying Charcoal Cleansing Bar - 2.3oz - No Tox Life
No Tox Life's ONYX Detoxifying Charcoal Cleanser Bar is made with hydrating mango, shea, and coconut - specially formulated into a moisturizing cleansing bar that won't clog the pores or be over-drying.
Activated charcoal from coconut husk gently draws out buildup of dirt, impurities, environmental toxins and makeup from the pores. 
Made with natural cleansers from mango to create a gentle lather and oats to make it safe for sensitive skin.
Natural, very light scent of mango, shea and coconut, with no added essential oils or fragrance.
Suitable for all skin types, from dry to oily, to combination, sensitive and acne-prone skin.

With daily use, this concentrated bar typically lasts 6-12 months.
~ WHAT'S TO LOVE:
All natural and biodegradable ingredients

Cruelty free

Palm Oil free

Vegan

No essential oils or added fragrance

Handmade by a mother-daughter team in Los Angeles

Packaging: cardboard label

 
~ INGREDIENTS:
Sodium Shea Butterate (from Shea) Sodium Mango Butterate (from Mango), Sodium Cocoate (from Coconut), Natural Glycerin (shea, mango and coconut derived), Colloidal Oats (Avena Sativa kernel flour), Citric Acid, Activated Coconut Charcoal.