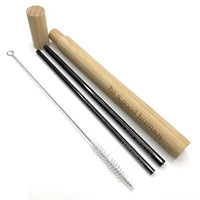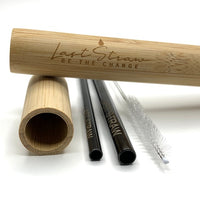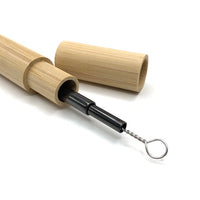 Last Straw
Reusable Straws - Black Stainless Steel - Last Straw
Ohhh straws!  These lovely little tools are so handy and helpful for so many reasons.  They're crucial for anyone with mobility limitations and also great for drinking without messing up your lipstick.  Not great is how the single use plastic ones are polluting this beautiful planet.
These reusable stainless steel straws are a fantastic solution!
Made with 18/8 304 food-grade (FDA) stainless steel, this set of 2 straws; 1 standard & 1 wide, has you covered for your juices, cocktails and smoothies.  
The bamboo travel case & cleaning brush make it easy to tuck in any bag.  
If you're out and don't have a reusable cup with you when you order a drink, being able to at least say no to a plastic straw and use your own really helps! 
Sharing is caring!  When you're out with a friend, lend that second one out to encourage them to forgo plastic!
~ WHAT'S TO LOVE:
Food-grade stainless steel

100% recyclable 
Includes an all natural bamboo travel case
2 thicknesses:
• 8.5 inch straight straw (6mm diameter)
• 8.6 inch smoothie straw (8mm diameter) 
~ MATERIALS:
18/8 304 food-grade (FDA) stainless steel, metal & nylon cleaning brush, bamboo travel case.