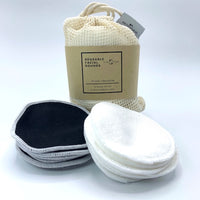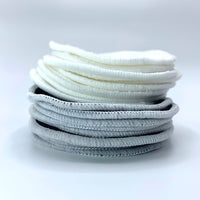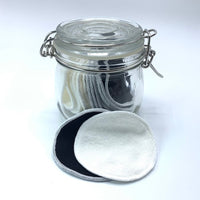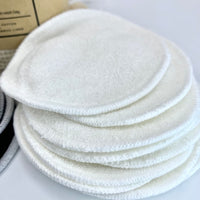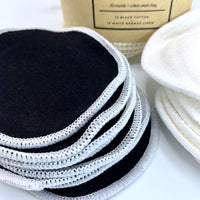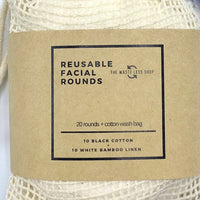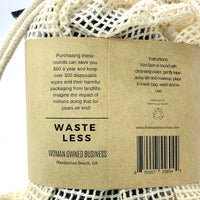 waste less shop
Reusable Facial Rounds - Cotton & Bamboo Linen - Pack of 20
Here's a great eco-swap for those disposable cotton rounds that come packaged in plastic!

This amazing combo pack of 10 black cotton & 10 white bamboo linen rounds gives you texture and absorption options to cover all of your facial care needs.
The black cotton rounds are a soft, smooth texture.  Great for removing dark makeup and applying toner.
The white bamboo linen rounds have more of a terry texture.  Great for removing more stubborn makeup or using with a cleanser when you want gentle exfoliation.
Store the clean ones in a repurposed jar or vessel of your choice.   Stash the dirty ones in the mesh wash bag and machine wash as needed.
With regular use and good care they'll last up to 2 years.
~ WHAT'S TO LOVE:
All natural and biodegradable 

Comes with an all cotton mesh wash bag

Packaged only with a recycled kraft paper label

Replaces hundreds of disposable pads 
~ CARE:
Machine wash in warm water 
Can be tumbled dry on low heat but some shrinkage may occur
Best if left out to air dry
Color safe bleach can be used if desired to remove any residual makeup
~ MATERIALS:
Cotton (pads & mesh bag), bamboo linen.