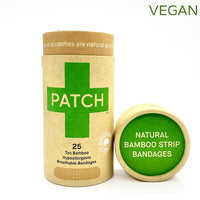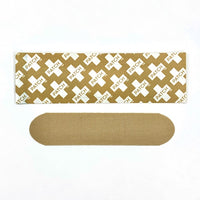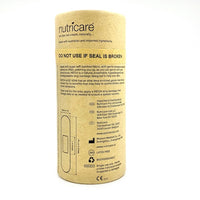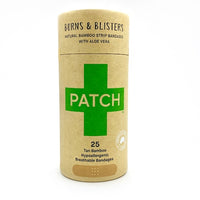 PATCH Strips
Bandages - Bamboo - Aloe Vera - PATCH Strips
PATCH Strips are the world's first organic, hypoallergenic, biodegradable wound care solution.
These bandage strips are made from 100% organic bamboo fibre and mineral based pressure sensitive adhesive that is especially suited to people with hyper sensitive skin.  They're breathable, latex free and can be thrown away in the earth and will break down in a matter of weeks.  
Bamboo fibre is known to be naturally anti-bacterial.
Each tube contains 25 bandages.
PATCH ALOE VERA has an Aloe Vera enriched gauze.  Aloe Vera is know for its benefits that may help to soothe blisters, cuts and minor abrasions.  It contains 2 powerful natural compounds that improve wound healing:
> Polysaccharides, which have been know to increase cellular movement, which leads to faster and more efficient tissue regrowth.
>Glycoproteins, which are not only a pain reliever but can also help control the inflammatory response.
The tube is made from recycled cardboard.  Even the paper backing on each bandage will break down in compost.  
~ WHAT'S TO LOVE:
100% compostable and biodegradable
Organic Bamboo fibre gauze infused with Aloe Vera
Vegan
Cruelty free
Latex free
Recycled cardboard tube packaging 
Compostable bandage packaging
~ MATERIALS:
Organic bamboo fibre, aloe vera, pressure sensitive adhesive, paper, recycled cardboard.