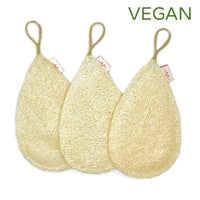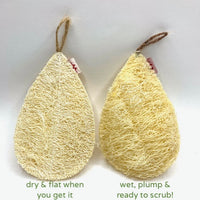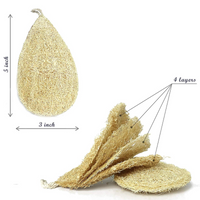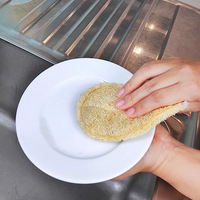 Miw Piw
Loofah Dish Scrubber - Miw Piw -----BUNDLE OF 3 - save 15%
** BUNDLE 3 AND SAVE 15% **
100% natural, compostable and biodegradable.
A sustainable replacement for plastic scrubbers that shed toxic microplastics as you use them, these loofah dish scrubbers are hands down my most favorite cleaning item!   They're an outstanding product with the perfect balance of 'scrubbiness' to get baked on food off of pots and pans, yet somehow still so soft and pliable that they feel lovely in your hand and are safe to use on nonstick cookware.  And they last for MONTHS!  
These are handmade by a lovely small company called Miw Piw in Vietnam who ships to me totally plastic free!
Also great for scrubbing counters and bathtubs! 
There are several other loofah scrubbers out there that look almost identical.  I've researched and tested about 6 of them and I guarantee you this one is THE BEST.  The quality of the loofah material itself is far superior, softer and more durable than any of the others I've tried.  It may seem silly to be so enthusiastic about a scrubber pad but these are honestly one of 3 particular items I carry that were such game changers in my life when I came across them that they launched my idea for this site.  
FUN FACT:  The loofah (also spelled luffa) is a genus of tropical and subtropical vines in the cucumber family!  Grown primarily in warm climates like India, China and Vietnam they require 150-200 warm days to mature.
~ WHAT'S TO LOVE:
100% natural, sustainable, compostable and biodegradable

Won't scratch

Lasts months
Odorless
~ CARE:
~ MATERIALS:
Loofah, jute hanging string, cotton label, cotton thread.