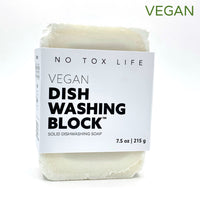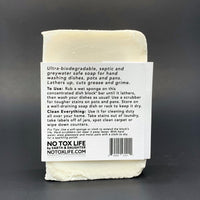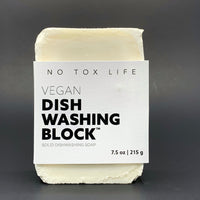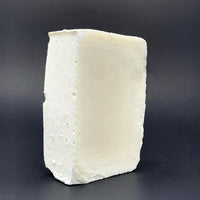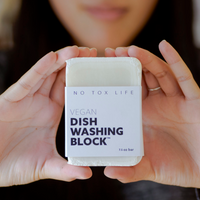 No Tox Life
Dish Washing Block - 7.5oz - No Tox Life
No Tox Life's Zero Waste Dish Block® dishwashing soap is a cleaning powerhouse with a rich, sudsy lather that cuts stubborn grime and grease on dishes, pots and pans.  With added aloe vera to be gentle on your hands. Completely unscented and fragrance-free.
You can even use it for cleaning-duty all over your home. Take stains out of laundry, take labels off of jars, spot clean your carpet, use it to wipe down counters... it's a truly multipurpose product. 
Each block can replace up to 1-3 bottles of typical liquid dish soap.
~ WHAT'S TO LOVE:
All natural and biodegradable ingredients

Vegan

Cruelty free

Palm oil-free

Phosphate-free

Paraben-free  

Fragrance-free

Septic and greywater safe

Handmade by a mother-daughter team in Los Angeles

Packaging: cardboard label

 
 ~ NOTE:
Due to the handmade and hand cut nature of this product, there will be imperfections, chips, fissures and roughness on the edges of the bar and rough variations on the surface.  This is normal :)
Be sure to keep the bottom of it dry between uses by setting it on a soap dish or soap lift.
~ INGREDIENTS:
Sodium Cocoyl Isethionate (plant derived), Decyl Glucoside (plant derived), Sodium Cocoate (plant derived), Quillaja Saponaria (from the South American soap bark tree - organic), Glycerin (plant derived), Aloe Vera Leaf (organic), Purified Water, Sodium Carbonate (mineral derived).