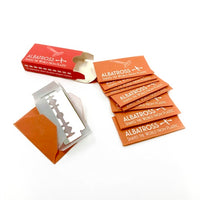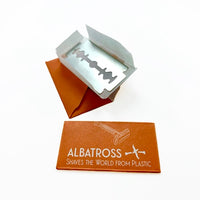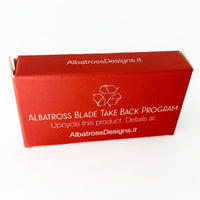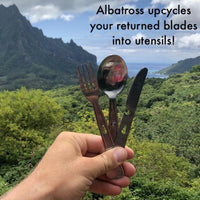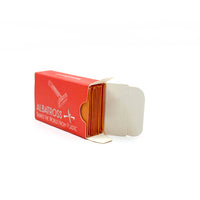 Albatross
Razor Blades - 10 Pack
These stainless steel razor blades work in all double-edge safety razors.
Each pack includes 10 blades.  For safety and sanitation each blade is wrapped in a paper sleeve inside a paper envelope.
High quality stainless steel like that found in most shaving blades can be an infinitely reusable material.

AVERAGE USAGE:
1-2 shaves per week = 3 packs/year
2-4 shaves per week = 5 packs/year
5-10 shaves per week = 10 packs/year
~ WHAT TO DO WITH USED BLADES:  
Recycle them!  The best thing to do is save a bunch of them up and then either mail them in to a blade recycling program (Albatross recycles them and there are tons of others! just search online) OR drop them off at a local recycling facility.

It's really not hard to do!  Blades are tiny.  You could save up a whole years worth and then mail off in 1 envelope to be recycled.
The cool thing about Albatross is that they have a blade take back program where they upcycle ALL BRANDS of double-edge safety blades! They turn them into their own Take Back Ware utensil travel sets. 
Used blades should never go directly in the garbage - that goes for any type of blade; those all-in-one plastic disposable razors, the double and triple blade replacement heads and these double edge safety blades.  
~ ALBATROSS BLADE TAKE BACK:
You can store and ship blades in a variety of containers like an old pill bottle, soup can or metal breath mint container.
When you have a minimum of 10 blades,  pop your container in an envelope (at least 3.5"x5") and mail it to:
Albatross Designs
PO Box 2254
Berkeley, California
94702