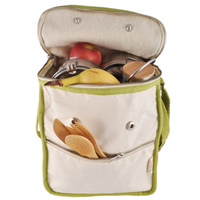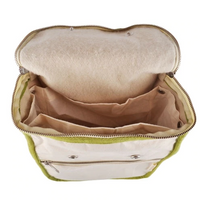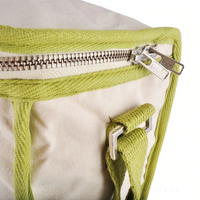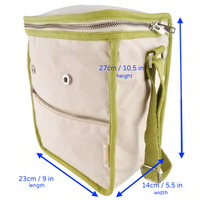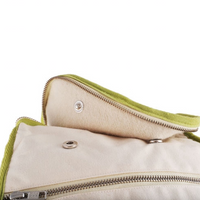 Life Without Plastic
Wool Insulated Lunch Bag - Green Trim - Life Without Plastic
A totally plastic free wool insulated lunch bag!  

This beautiful lunch bag features an exterior insulating organic cotton and wool layer plus a removable and washable inner organic cotton liner.   It's perfect for keeping your meals fresh and cool on the go. It's large enough to accommodate several of our stainless steel food containers and features a external zippered pocket for inserting cutlery, napkins or other accessories. The green hand-dyed cotton strap is adjustable to allow for across-the-shoulder or hand-bag type transport.
There are 2 built in options for closure:  a double ended metal zip around 3 sides for full closure at the top OR two snap buttons at the front so you can just fold the top over for quick closure and quick access. 
Dyed parts are hand dyed with natural vegetable dyes so please do not expect perfect uniformity in the coloring - there may be lighter and darker shades of orange on the dyed parts.
Available in orange or green trim.
Length:   23cm // 9in
Width:     14cm // 5.5in
Height:    27cm // 10.5in
~ WHAT'S TO LOVE:
Exterior is GOTS certified 100% organic cotton

Interior lining is GOTS certified 100% unbleached organic cotton
Interior lining is removable and washable
Hand dyed green detailing using natural vegetable dyes

100% wool insulated lining
Adjustable strap

Compostable fabric

BPA free

Phthalate free
PVC free
Lead free
~ CARE:
Hand wash with cold water.

Hang to dry

NOTE that because natural dyes are used for the trim on the bag there is the possibility that color may bleed.  To minimize the possibility of color bleeding it is recommended to add salt to the first wash to fix the colour
~ MATERIALS:
GOTS certified organic cotton, wool, natural vegetable dyes, metal zipper, snaps and strap buckles