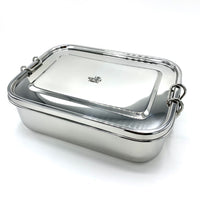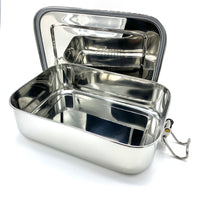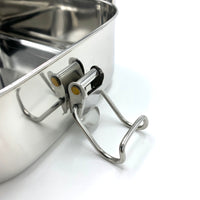 Life Without Plastic
Stainless Steel Airtight Food Storage Container - Medium Rectangular - 1600 ml / 54 oz - Life Without Plastic
True airtight stainless steel food containers are hard to find.
This gem is lightweight and has a removable, full adhesive-free silicone ring inside the lid that makes it completely airtight.
This medium sized rectangular container fits nicely in a bag, purse or knapsack, and because it's airtight, no mess to worry about!  So go ahead and pack that fruit salad, tomato sandwich or morning oatmeal. It's made of food grade stainless steel with a food grade silicone ring inside the lid.

Remove the silicone ring from the lid and it's both oven and dishwasher safe!
Life Without Plastic branded products are increasingly recognized as the gold standard for non-plastic products of superb quality.  They are a Green America Certified Company and are absolutely meticulous about ensuring that all materials are ethically sourced and rigorously tested.
Length:   21cm // 8.3in
Width:     15cm // 5.9in
Height:    6cm // 2.4in
~ WHAT'S TO LOVE:
Lightweight

Airtight
Watertight
Food grade stainless steel

Removable food grade adhesive free silicone seal ring
BPA free

Phthalate free
PVC free
Lead free
Recyclable
~ CARE:
Container and lid are dishwasher-safe and oven-safe when the silicone seal ring is removed. 

Silicone seal should be washed by hand in warm soapy water, and is not oven-safe.
~ MATERIALS:
Container and lid made of 18-8 food grade 304 stainless steel. Lid has a removable, adhesive-free food grade silicone seal ring.