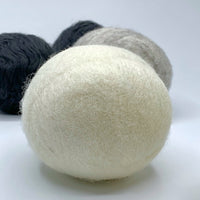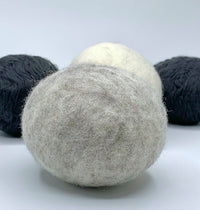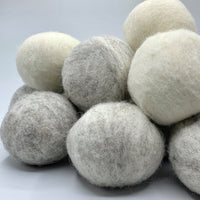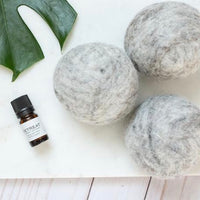 NaturaPure
Dryer Balls - Wool - NaturaPure
Dryer balls are an eco-friendly swap for dryer sheets and have the added advantage of cutting down your dryer time by 30%-50%!
They do that by opening up pockets of air as they help toss and circulate the laundry.
Dryer balls typically last for 1,000 loads.  Replace them when you notice that they've stopped reducing static.  Depending on how much laundry you do, that could be 3 to 5 years (3 years is about 6 loads per week).  
NaturaPure dryer balls are handmade from cruelty free Canadian wool ethically sourced from western Canadian farmers.  The wool has never been bleached or treated with any chemicals.  They're designed to be slightly softer than most other wool dryer balls which helps them absorb moisture which in turn helps reduce the drying time.
These are very soft and lightweight.  Each ball weighs approx 1.5 oz and is about 1.5 x the size of a tennis ball.  
It's recommended to use 3 dryer balls per load.  The more you use, the speedier the drying time. I've accumulated 9 dryer balls over the past few years so often toss in 4 or 5 per load just because I have them. 
Available in white and light grey.
Cost is for 1 dryer ball.
Orders of 3 or more balls will include an all cotton NaturaPure storage bag.
~WHAT'S TO LOVE:
Zero waste
All natural materials
Ethically sourced and cruelty free Canadian wool
Reusable
Long lasting
Compostable and biodegradable
Reduces dryer time by 30%-50%
Reduces static and wrinkles
~HOW TO USE:
Just toss in your dryer with your wet clothes.
~PRO TIP:
Add 2-3 drops of your favorite essential oil directly on each dryer ball to add a gentle scent to your laundry.
Be sure to let the oil soak in and dry before you add the balls to your laundry;  add the drops 1 hour before *or* toss the balls in the dryer on their own for about 10 minutes before you add the laundry.
~ CARE:
Dryer balls can simply be left in your dryer between uses or stored in the cloth bag provided.
It's recommended that you wash your dryer balls every 6-12 months.
It makes a great, all natural toy for your pet when you're done with it!
~MATERIALS:
100% pure wool balls, all cotton bag with cotton drawstring.