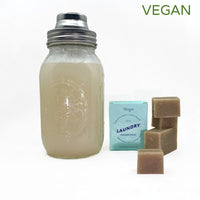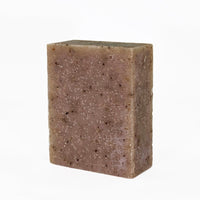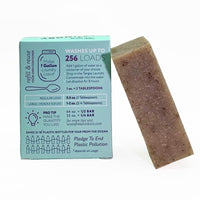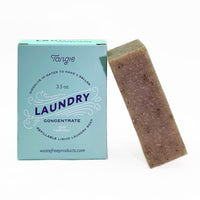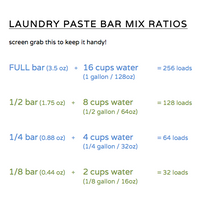 Tangie Waste Free Products
Laundry Soap Paste Bar - 3.5oz bar - 256 loads - Tangie
Just add water!

Dissolve this Laundry Paste Bar in your own container to make liquid laundry soap yourself!  Just think, you could use 1 laundry soap container for the rest of your life!  No more oversized plastic laundry bottles going into landfill!
This super concentrated little bar packs enough power for 256 loads and has an 'A' rating from the Environmental Working Group.
It's tough on dirt and odor, yet gentle and safe enough for baby clothes.
Fragrance free and formulated for sensitive skin.
Greywater and septic safe.  Low suds formula that is great in both high efficiency and front load machines.
Tangie Waste Free Products is a Green America Certified Business. 
Green America certifies businesses that are committed to using business as a platform for social change.  They are businesses that adopt principles, policies and practices that improve the quality of life for their customers, employees, communities, and the planet. 
~ WHAT'S TO LOVE:
An A rating from Environmental Working Group (EWG)

Biodegradable

Vegan

Cruelty free
Fragrance free
Greywater and septic safe
Great in both high efficiency and front load machines

Tangie is a Women-owned business that is Green America Certified

Packaging: recyclable or compostable cardboard box made with 75% post-consumer waste
~HOW TO USE:
Cut bar to desired portion
Drop in water
Wait about 4 hours for it to dissolve (or cut up into smaller pieces for faster dissolve)
Dilute as much or as little as you'd like:
• full bar (3.5oz) + 1 gallon / 128oz / 16 cups of water = 256 loads
• half bar (1.75oz) + 1/2 gallon / 64oz / 8 cups of water = 128 loads
• quarter bar (0.88oz) + 1/4 gallon / 32oz / 4 cups of water  = 64 loads
• eighth bar (0.44oz) + 1/8 gallon / 16oz / 2 cups of water = 32 loads
0.5oz / 1 TBSP for a regular load
1-2oz / 2-4 TBSP for a large or heavily soiled load 
~ INGREDIENTS:
Coconut Oil, Olive Oil, Soap Nuts Liquid, Yucca Powder (washing), Baking Soda (freshening), Oxalic Acid (stain lifting & whitening), Sodium Percarbonate (stain lifting), Salt (fabric softening), Rosemary Oleoresin (preservative).