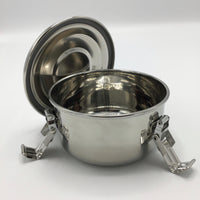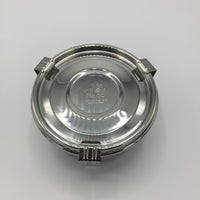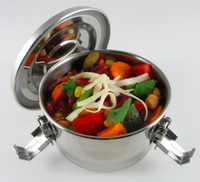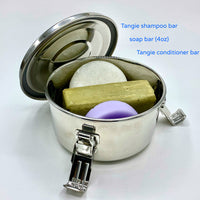 Life Without Plastic
Stainless Steel Airtight Food Storage Container - Small Round - 10cm / 4in - Life Without Plastic
True airtight stainless steel food containers are hard to find.
This handy little gem is lightweight and has a full adhesive-free silicone ring inside the lid that makes it completely airtight.
This practical 10 cm / 4" one works beautifully for transporting yogurt, apple sauce, tahini, snacks of fruit and nuts - and no mess in your backpack! Great for picnics and freezer storage. It's made of food grade stainless steel with a food grade silicone ring inside the lid.
Also great for holding your shampoo, conditioner and soap bars while traveling! No more soap slime leak to deal with! 

The three stainless steel latches are a breeze to open quickly by children and adults alike.
You can use a wax pencil or non-permanent marker to write on the container. This is handy for specifying contents and storage date. The wax and marker writings wash off easily with water and friction.
Life Without Plastic branded products are increasingly recognized as the gold standard for non-plastic products of superb quality.  They are a Green America Certified Company and are absolutely meticulous about ensuring that all materials are ethically sourced and rigorously tested.
Diameter:   4 in // 10 cm 
Width:         4.5 in // 10.3 cm (with lid latched on)
Height:        2.25 in // 6 cm (with lid latched on)
Capacity:    11.2 fl. oz  // 330 ml  //  1.6 cups (when full to the brim, note; carrying capacity slightly less with the lid latched in place)
~ WHAT'S TO LOVE:
Lightweight

Airtight
Watertight
Food grade stainless steel

Food grade adhesive-free silicone seal ring (not removable)
BPA free

Phthalate free
PVC free
Lead free
Recyclable
~ CARE:
The base container is dishwasher-safe and oven-safe.
The lid should be washed by hand in soapy warm water.
The lid is not oven-safe.

~ MATERIALS:
Container and lid made of 18-8 food grade 304 stainless steel. Lid has a non-removable, adhesive-free food grade silicone seal ring.