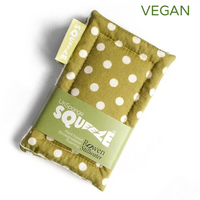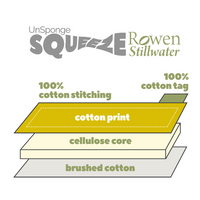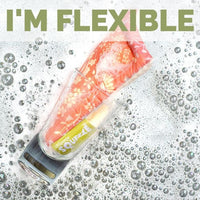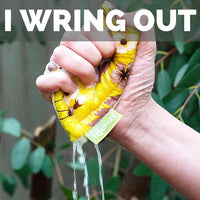 Rowen Stillwater
UnSponge Squeeze Sponge - 2 pack - Green Polka Dot - Rowen Stillwater
The UnSponge Squeeze sponge is 100% plant based, compostable and handmade.
It's made with a cotton print top, brushed cotton base and a specially formulated cellulose core.  This unique combination makes the sponge wonderfully flexible, easy foaming and quick drying.
The eco-friendly cellulose core is made from a blend of wood pulp, cotton and flax and is completely biodegradable.
With regular dish soap and cleaners the average life is 4 months.  With bleaches and heavy chemicals up to 3 months. 
Package of 2 sponges.  Each sponge is approximately 4.7in x 2.7in  // 12cm x 7cm 
~ WHAT'S TO LOVE:
100% plant based

Vegan 

Compostable

Handmade in the UK

Manufacturing of cellulose is very conservative, producing no harmful by-products and, importantly, very little waste.

Any pieces of sponge that are cut off or damaged in the trimming process are ground up and added back into the fibre mixer so nothing is thrown away.
~ CARE:
To keep your sponge fresh and ready for use always wring it out after use. It can hold up to 10X it's own weight in water so it needs a good squeeze!
~ INGREDIENTS:
cotton and plant based cellulose