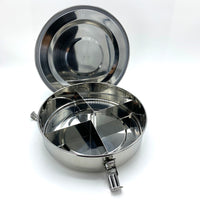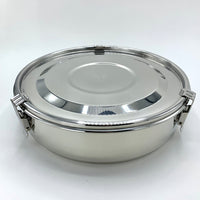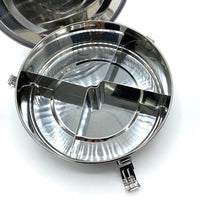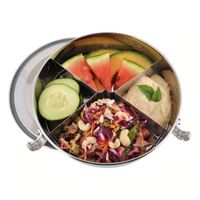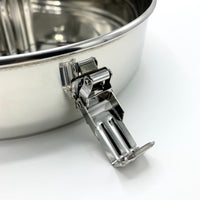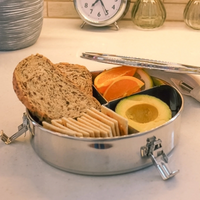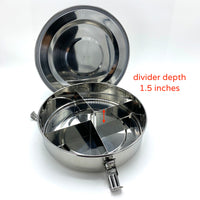 Life Without Plastic
Stainless Steel Airtight Food Storage Container - Round with Dividers - 18.4cm / 7.25in - Life Without Plastic
True airtight stainless steel food containers are hard to find.
This fantastic, versatile container has removable dividers so you can make it into a single, double, or four compartment container!  It's nice and wide and has an airtight lid with a silicone seal making it ideal for a meal to go, like sushi or rice and a curry.   It's made of food grade stainless steel with a food grade silicone ring inside the lid.
The three stainless steel latches are a breeze to open quickly by children and adults alike.
Life Without Plastic branded products are increasingly recognized as the gold standard for non-plastic products of superb quality.  They are a Green America Certified Company and are absolutely meticulous about ensuring that all materials are ethically sourced and rigorously tested.
Diameter:   18.4cm // 7.25in
Width:     19.75cm // 7.75in (with lid latched on)
Height:    4.5cm // 1.8in (with lid latched on)
Capacity:  1.1L // 37 fl. oz  // 4.4 cups (when full to the brim, note; carrying capacity slightly less with the lid latched in place)
~ WHAT'S TO LOVE:
Lightweight

Airtight
Watertight
Food grade stainless steel

Food grade adhesive-free silicone seal ring (not removable)
BPA free

Phthalate free
PVC free
Lead free
Recyclable
~ CARE:
The base container is dishwasher-safe and oven-safe.
The lid should be washed by hand in soapy warm water.
The lid is not oven-safe.

~ MATERIALS:
Container and lid made of 18-8 food grade 304 stainless steel. Lid has a non-removable adhesive-free food grade silicone seal ring.