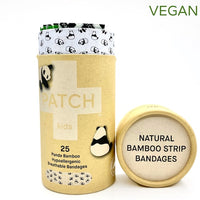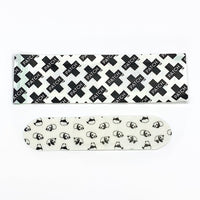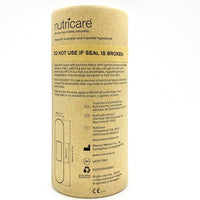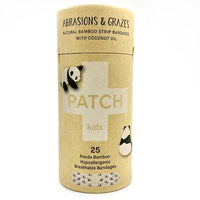 PATCH Strips
Bandages - Bamboo - Coconut Oil Kids - PATCH Strips
PATCH Strips are the world's first organic, hypoallergenic, biodegradable wound care solution.
These bandage strips are made from 100% organic bamboo fibre and mineral based pressure sensitive adhesive that is especially suited to people with hyper sensitive skin.  They're breathable, latex free and can be thrown away in the earth and will break down in a matter of weeks.  
Bamboo fibre is known to be naturally anti-bacterial.
Each tube contains 25 bandages.
PATCH COCONUT OIL has a coconut oil enriched gauze.  Coconut oil is rich in lauric acid, a fatty acid with anti-viral, anti-fungal, anti-microbial and anti-inflammatory properties which makes it an ideal 100% natural and safe ingredient to assist in the soothing of minor cuts and bruises.  
The adorable panda print will surely help stop your little one's tears and put a smile on their face instead.
The tube is made from recycled cardboard.  Even the paper backing on each bandage will break down in compost.  
~ WHAT'S TO LOVE:
100% compostable and biodegradable
Organic Bamboo fibre gauze infused with coconut oil
Vegan
Cruelty free
Latex free
Recycled cardboard tube packaging 
Compostable bandage packaging
~ MATERIALS:
Organic bamboo fibre, coconut oil, pressure sensitive adhesive, paper, recycled cardboard.