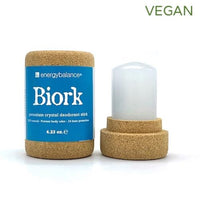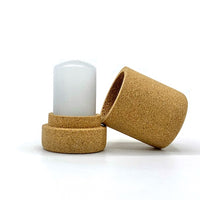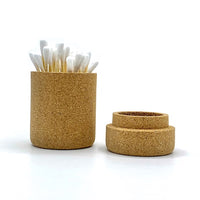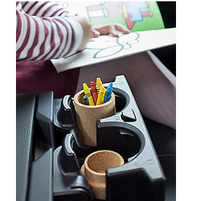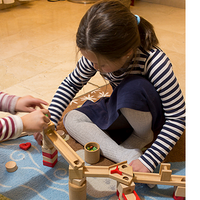 Biork
Deodorant Crystal - 120g - Biork
 A completely ecological, 100% natural mineral crystal that is truly UNIQUE as it's the ONLY crystal stick deodorant I have ever seen packaged in cork!  What a brilliant idea! 
Biork deodorant crystals are made of a natural mineral salt called potassium alum which has been shown to have antimicrobial properties.  Potassium alum has been used as a deodorant in Southeast Asia for hundreds of years.
I have exclusively used deodorant crystals since I was a teenager when they were only available as raw rough shaped crystal 'rocks'.  I was relieved when they eventually became available shaped with a nice smooth application surface in a conventional plastic deodorant casing.
I can't tell you how thrilled I was when I finally found this totally plastic free option.
These come all the way from Switzerland and I'm excited to be one of only a few shops carrying them in North America.
With daily use 1 should last 6-8 months.
There are so many ways to repurpose and reuse the cork container; cork is particularly suitable for cacti and succulents.  Great for kids crayons, jewelry when you're traveling, paperclips in the office.  The list is endless!
~WHAT'S TO LOVE:
100% natural and antibacterial
No aluminium chloride, aluminium chlorohydrate or other toxins
Unscented
Dermatologically tested to prevent skin irritations
Vegan
Cruelty free
Invisible when applied
Zero residue on clothing
Packaged in renewable and recyclable cork from Portugal
Tons of ways to repurpose and reuse the cork container
So easy to apply: wet the top, rub on skin & you're done!
~HOW TO APPLY:
Super simple:  quickly wet the top (I flick it under the tap like wetting my toothbrush) then rub on!
~TIP:
As you apply, count to 15.  This is 100% effective IF you apply enough of it.  It's not like conventional roll on deodorant where 4 or 5 swipes in 3 seconds puts a lot of product on.  I rub vigorously for the full 15 seconds.  It feels like, well, like you're rubbing water off a wet rock under your arm (which you are) and it is magic!  There is nothing to see, nothing to smell.  Nothing to rub off on your clothes.
~MATERIALS:
Potassium alum crystal, cork, recycled paper label.